Having completed a residency in Advanced Dentistry, Dr. Nadjibi is skilled in all aspects of dentistry. Additionally, he has developed a strong relationship with highly skilled dental specialists that are always available to work with him to ensure the highest standard of care for his patients.
We utilize current equipment such as digital x-rays and fiber optic intra-oral cameras to better educate you, and to make our dentistry easier to deliver and more successful. Below are the dental services provided in Dr. Nadjibi's dental office:

Preventative Treatments for the entire family
State-of-the-art hygiene methods including use of sophisticated localized anti-bacterial agents to fight off periodontal disease
Sealants for children and adults to help prevent decay
Educational materials to make you aware of your dental health
Cosmetic Dentistry
Porcelain Veneers
Non-metallic fillings and crowns
ZOOM in-office power whitening
Home whitening products
Comprehensive smile analysis
Simple and Complicated Restorative Dentistry
Single and multiple crowns and bridges using the highest standards of materials
Full-mouth reconstruction using all disciplines of dentistry
CEREC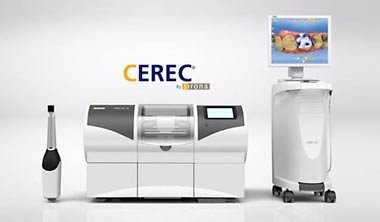 individual all-ceramic restorations in one single appointment
The most used dental CAD/CAM system worldwide
More than 250 scientific studies documenting clinical security
One visit dentistry
Periodontal Treatments
Routine cleanings
Scaling and root planning
Use of localized antibiotics
Bone grafting
Implant Dentistry
Surgical placement of dental implants
Restoration of simple and complicated dental implant crowns and bridges
Oral Surgery
Extraction of wisdom teeth
Extraction of broken and fractured hopeless teeth
Root Canal Therapy
Root canals to save infected teeth that would otherwise be extracted
Invisalign
Computer generated and designed "invisible" braces to straighten crowded teeth.
Snoring and Sleep Apnea Treatment
Non-surgical treatment of snoring and sleep apnea
Time tested and proven therapies
95% success rate
We will work closely with your ENT
Geriatric and Mobile Dentistry
Hospital and Nursing Home visits
House Calls
Disabled or Medically Compromised
Special Needs
Botox
Used in dentistry to reduce the symptoms associated with excessive grinding of teeth (bruxism) and TMJ disorders.
Sedation Dentistry
We use nitrous oxide (laughing gas) and special medications that can make your extended dental appointments much less traumatic.